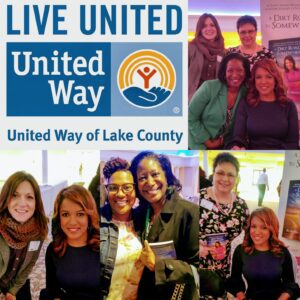 Forbes House attended the United Way Annual Meeting and Luncheon yesterday. Donors, volunteers, agencies and organizations came together to fight for Lake County's most vulnerable residents. Last year, residents in need benefited from 91,971 services due to the support United Way receives.
Romona Robinson was there as well promoting her book "A Dirt Road to Somewhere." Staff was able to talk with Mrs. Robinson about her struggle to empowerment. Romona Robinson is an eight-time Emmy Award-winning journalist with decades of public speaking experience. She is currently an evening anchor at WOIO in Cleveland, Ohio and broke barriers by becoming Cleveland's first black female primary anchor and the city's first female solo evening anchor. Thank you for being so gracious!
*Each year Forbes House supports  families and individuals in Lake County afflicted from domestic violence. Do your part and give where you live!
www.uwlc.org